Regency View:
UK Sector Snapshot
They say 'markets rise on a wall of worry' and that's almost true for the FTSE…
A backdrop of escalating Russia / Ukraine tensions, and interest rate hikes from the Bank of England and Fed to cool inflation, means there is no shortage of factors for traders to worry about.
Despite this, the FTSE's technical structure has remained largely bullish – maintaining the series of higher swing lows which have been in place since December.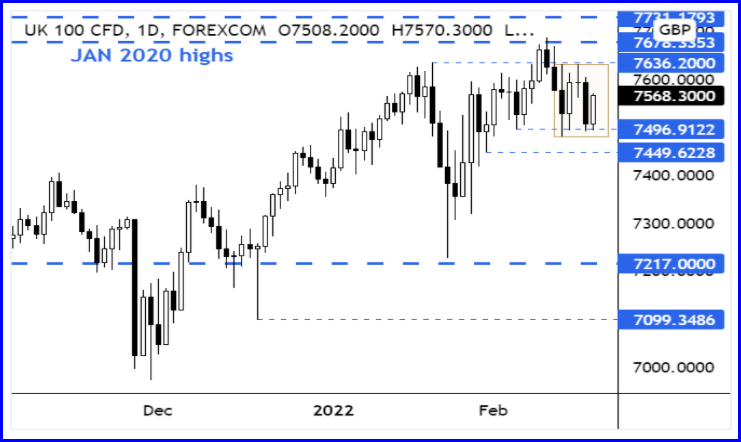 However, recent price action has been choppy and the market is currently consolidating within Monday's range.
When markets are range bound it becomes even more important to look at sector strength and weakness in order to spot any rotational trends…
SECTOR STRENGTH
Oil & Gas has benefited from seemingly inevitable prospect of a Russian invasion of Ukraine and Brent Crude (the international oil benchmark) has hit a seven year high on Monday.
Another standout performer since the turn of the year has been Banking, with the prospect of further rate hikes boosting profit margins.
SECTOR WEAKNESS
Standout sector weakness comes from the Housebuilding & Construction sector…
We highlighted this theme in last month's sector snapshot and it has continued to gather momentum.
Just as tightening monetary policy and bond yields can be a net tailwind for banks, they are without doubt a headwind for Housebuilding & Construction.
Disclaimer:
This research is prepared for general information only and should not be construed as any form of investment advice.