Regency View:
UK Sector Snapshot
The Bank of England's decision to hike rates for the first time in three years has been broadly welcomed by the market…
Fears that inflation will persist have, so far outweighed the threat that a rate hike will damage a fragile economic recovery.
The FTSE's short-term technical backdrop remains cautiously bullish following the V-shaped recovery in response to the Omicron sell-off at the end of November.
Of key significance is the cluster of levels around 7,200 marker which has been used as support and resistance on multiple occasions this year.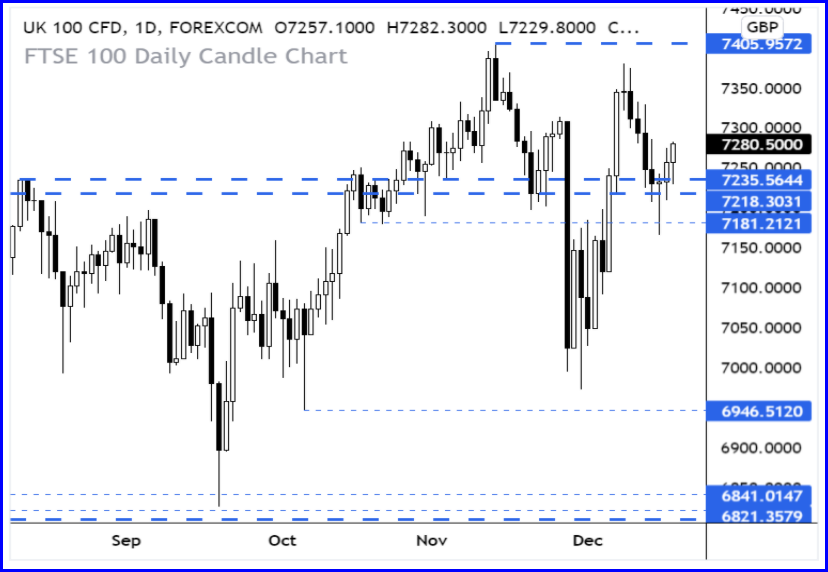 SECTOR STRENGTH
The Housebuilding and Construction has been a standout performer, lead by US-focused plumbing giant Ferguson (FERG). Whether this continues following the Bank of England's decision to hike rates remains to be seen.
Telcoms have also shown strength, but this is skewed by the stellar performance of Telecom Plus (TEP) in recent weeks.
Mining is back at highs not seen since October as the the Chinese government's decision to lower its reserve ratio and stimulate the worlds second largest economy has boosted commodity prices.
Consumer Defensive and Utilities have also shown high levels of relative strength as the inflation trade continues to dominate.
SECTOR WEAKNESS
Banking has under-performed as traders chose to focus on the impact of the Omicron variant as apposed to a backdrop of rising interest rates.
The Pharma sector has been another notable laggard in recent weeks, but prices have bounced during since the turn of the month.
Disclaimer:
This research is prepared for general information only and should not be construed as any form of investment advice.