Regency View:
UK Sector Snapshot
After rallying to highs not seen since the start of the pandemic, the FTSE has undergone a pullback this week…
Those of you who follow our Morning Report will know that we are watching the broken summer highs very closely.
A key characteristic of any strong uptrend is the tendency for broken support to become resistance, and we expect those summer highs at 7,216-7,235 to attract buyers should the FTSE's pullback continue.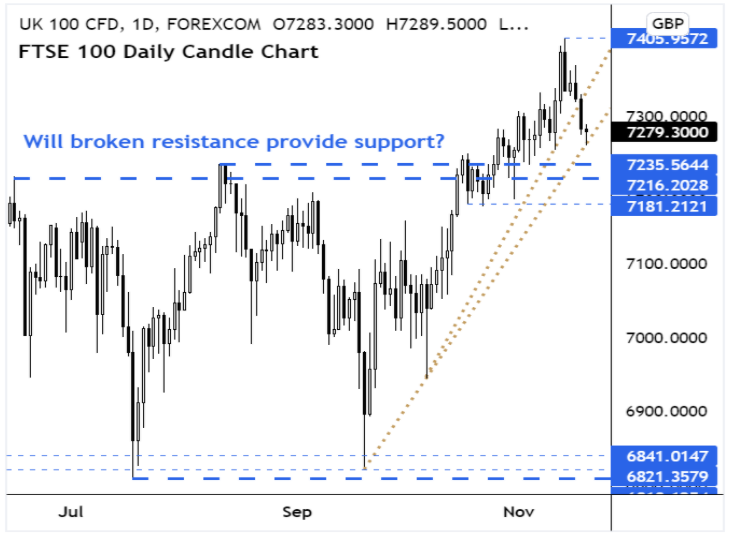 SECTOR STRENGTH
A standout performer has been Housebuilding which has been buoyed by the Bank of England's decision to refrain from raising interest rates. The sector has also been helped by continued strong performance from US-focused stocks such as Ferguson and CRH.
Another sector worth noting for showing resilience during the FTSE's recent pullback is Consumer Defensive which has demonstrated throughout earnings season that higher input prices can be passed onto consumers.
SECTOR WEAKNESS
After a stellar run in October, Pharma has shown real weakness, lead by AstraZeneca who dropped sharply following their latest trading update.
Strength in Banking also took a pause earlier in the month following the back-tracking from central banks about tightening monetary policy in the face of rising inflation.
We've also seen clear weakness from Oil & Gas due to a softening in commodity prices and a negative reaction to trading updates from BP and Shell.
Disclaimer:
This research is prepared for general information only and should not be construed as any form of investment advice.