Regency View:
Non-farm payrolls preview
Consensus estimate: 550,000 jobs added in November
In a week which has seen a sharp increase in volatility across global stock markets, this afternoon's November non-farm payrolls will set a 'pre-Omicron' bar from which to measure the impact of the new variant…
October's strong jobs report sparked a sharp rally in the US dollar (see chart right), as traders moved to price in tightening monetary policy from the Fed.
And whilst the dollar index has retraced since news of the Omicron variant, rhetoric from the Fed remains hawkish – indicating the central bank's desire to tackle inflation.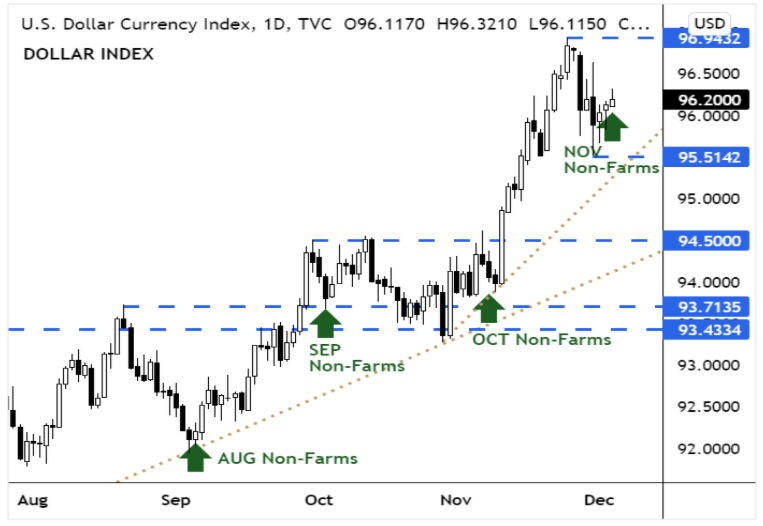 Analysts expect the jobs momentum from October to have continued throughout November…
Consensus estimates indicate that job growth is likely to top 550,000, with the unemployment rate falling to at least 4.5%.
The S&P 500 has beat a hasty retreat from all-time highs in response to the heightened levels of uncertainty. And the prospect of tightening monetary policy at a time when the impact of the new variant is unknown has caused many analysts to call a medium-term top.
However, the strength of the S&P's long-term bull market should not be underestimated, and 'buy the dip' has been a highly profitable trading strategy during the last year.
The bulls will be hoping that the market can find support at the broken September highs, should this support level break on today's non-farms it would open the door for a retest of the October lows.
Disclaimer:
This research is prepared for general information only and should not be construed as any form of investment advice.