Regency View:
Non-farm payrolls preview
Consensus estimate: 268,000 jobs added in June…
With the greenback at highs not seen since 2002 and the S&P 500 posting its worst first half in over a decade, the scene is set for another hotly anticipated set of US non-farm payrolls.
US job creation is expected to cool from its red hot levels achieved earlier this year…
Consensus analyst estimates indicate that the US will add 268,000 jobs in June – the smallest gain since April 2021. That follows the 390,000 positions created in May and a 436,000 pick-up in April.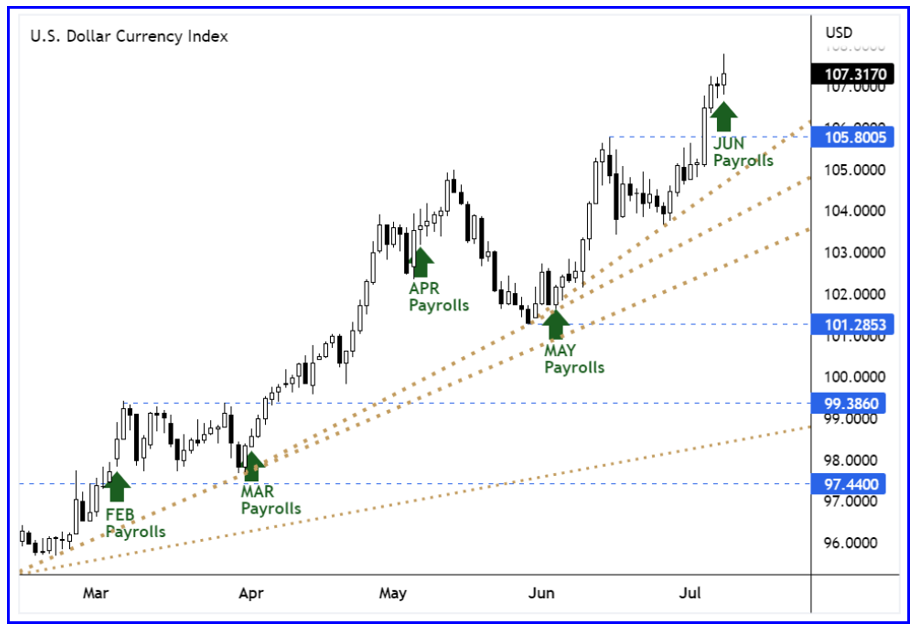 Average Hourly Earnings is expected to come in at 5.2% YoY growth. Given the market's inflationary fears, this number is likely to be just as important as the headline payrolls. Should we get a reading above 6%, then bond yields and US dollar should continue to rally, while equities could weaken.
Indeed, the S&P 500 looks like an inverted picture of dollar strength right now. And with the Fed embarking on what is expected to be the most aggressive campaign to tighten monetary policy since the 1980s, stocks would favour a weak set of non-farms to stem the relentless path of rate rises.
Disclaimer:
This research is prepared for general information only and should not be construed as any form of investment advice.