Regency View:
Non-farm payrolls preview
Consensus estimate: 391,000 jobs added in April…
With the US economy being squeezed in an ever tightening inflation vice, traders will be asking 'for how much longer can the jobs market remain resilient?'…
Consensus analysts estimates indicate that the US will add 391,000 jobs in April – down from the 431,000 added in March, but still very resilient for a jobs market at full employment.
Since the last jobs print, the US dollar index (right) has surged to 20-year highs with the yield on US government bonds following suit – highlighting the market's concerns over high inflation.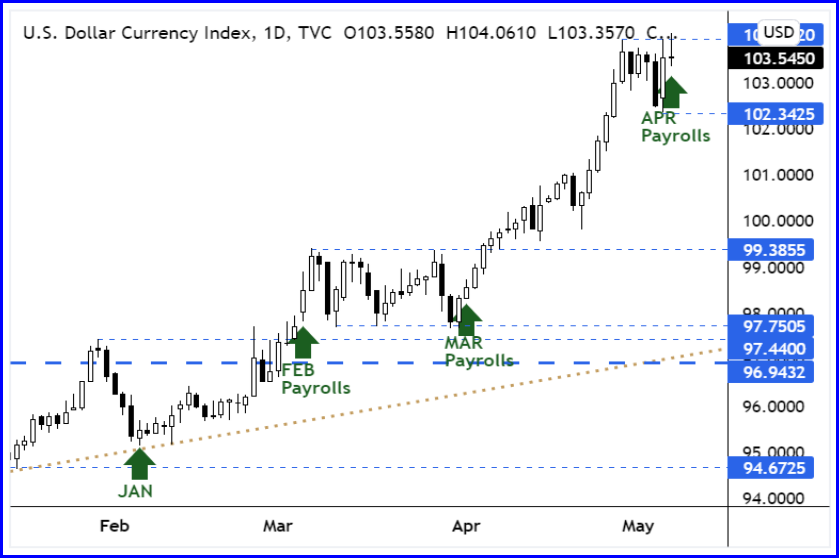 Average Hourly Earnings is expected to come in at 5.5% YoY growth. Given the market's inflationary fears, should we get a reading above last month's 5.6% or into 6%, then bond yields and US dollar should rally hard, while equities could face another torrid time…
Recent price action on the S&P 500 has seen the index retest the major swing lows at 4,105 which formed in February (see chart below).
This low represent a key area of support for a market which has performed poorly since the turn of the year. A break and close below support on today's non-farms would be a very bearish sign.
Disclaimer:
This research is prepared for general information only and should not be construed as any form of investment advice.