Regency View:
Covid-19 variant reaction
IAG and Rolls Royce down considerably as new variant spooks the markets
From the calm of Thanksgiving Thursday to the carnage that comes with a potentially deadly new Covid-19 variant, it's been quite the 24hrs!
New Covid-19 variants have been popping up with regularity, but few have sparked the initial fear of the newly discovered, 'heavily mutated' B.1.1.529 variant…
With 50 mutations and more than 30 on the spike protein (the target of most vaccines), the new variant, discovered in South Africa, is said to have the potential to have the 'immune escape' of the Beta variant, and the high 'infectivity' of the Delta variant.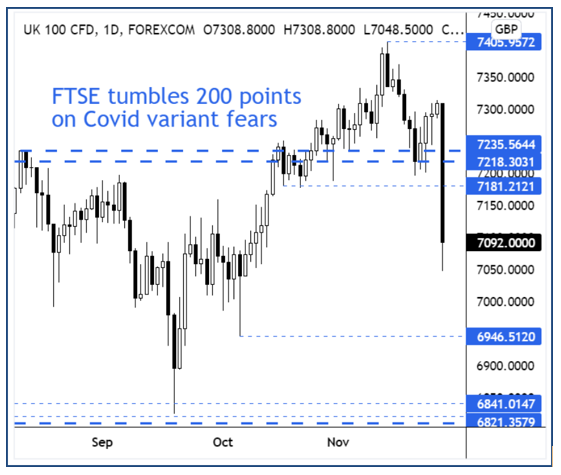 Whilst it's very early days for the new variant, and no official guidance has been issued by the World Health Organisation, markets are spooked…
The FTSE dropped more than 200 points in early trading and Asian markets have also been hit hard. The feeling among traders is that this risk/reward favours the downside in the short-term until new data can confirm that the new variant isn't as serious as first feared.
It's no real surprise to see the stocks that have been hit the hardest are those related to travel…
International Consolidated Airlines (IAG)
IAG's share price is currently trading more than 10% lower…
The shares gapped below a key level of swing support (see chart below), and this level will be critical during today's session.
A close back above swing support during today's session could indicate that the new variant is a storm in a teacup.
However, a close below support could open the door for a retest of the October 2020 (pre-vaccine) lows.
Rolls Royce (RR.)
Another stock being hit hard this morning is aircraft engine maker Rolls Royce…
The stock had been the poster boy of the vaccine-driven recovery in global travel. And the shares had carved out a strong uptrend in recent months – breaking and holding above their November 2020 highs.
However, the shares are trading more than 8% lower this morning – taking prices back to their long-term ascending trendline.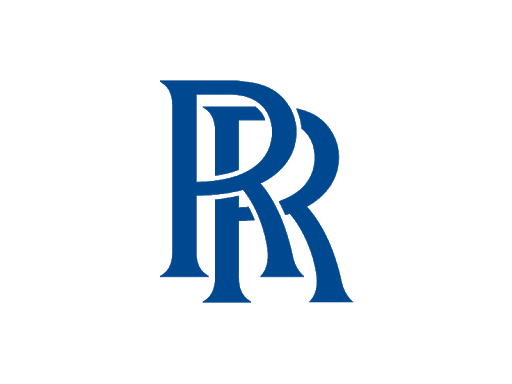 It's worth noting that Rolls Royce will be highly sensitive to new variants due to the fragility of the companies balance sheet. And whilst they have taken steps to improve this in recent months, should the market smell weakness, the shares have the potential to drop back to their summer lows.