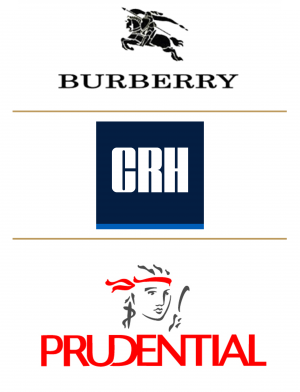 Regency View:
BRBY, CRH, PRU – Today's UK Trades Ideas
Burberry breaks lower
After breaking the ascending trendline earlier in the month, Burberry (BRBY) are starting to build downside momentum.
The shares broke and closed below 1,466p support during yesterday's session, and this morning's bearish open has continued yesterday's momentum.
Should market conditions remain bearish, we'd expect Burberry to retest their 1,232p summer lows.
Strategy Type: Short-term momentum
Key Support 1,232p / Key Resistance 1,466p
CRH – Play the range
CRH (CRH) has formed a clear trading range between resistance at 3,102p and support at 2,696p.
After failing to break the highs at the start of the month, prices have put in a clean move lower – taking the shares back to the bottom of the range.
When viewed in the context of CRH's long-term uptrend, this support level offers attractive levels of risk/reward for those looking to play the range.
Strategy Type: Range trade
Key Support 2,696p/ Key Resistance 3,102p
Prudential making lower swing highs
Prudential (PRU) has been carving out lower swing highs on the price chart for several weeks.
The shares broke below key support at 1,084p last week and this broken support level is likely to provide resistance moving forward.
We are now starting to see trendlines steepen, indicating that Prudential's bearish momentum is accelerating.
Strategy Type: Short-term momentum
Key Support 865p / Key Resistance 1,084p
Disclaimer:
This research is prepared for general information only and should not be construed as any form of investment advice.