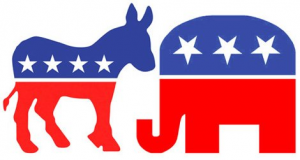 Regency View:
Biden v Trump 4 US Trade Ideas
Buy Caterpillar (CAT)
Biden Win
If Biden is victorious, investors expect a large boost to infrastructure spending.
Democratic control of both the White House and the Senate would give free rein to boost fiscal spending (funded in part by tax hikes).
This would be great news for construction giant Caterpillar whose share price has formed a strong uptrend since Biden started to lead the polls.
Key Support 149.64 / Key Resistance 170.73
Sell AT&T (T)
Biden Win
Biden wants to increase the corporate tax rate from 21% to 28%, still lower than the 35% from before Trump took office but enough to send a small shock-wave through certain areas of the market.
According to analysts at JPMorgan, it is believed that AT&T were a large beneficiary of Trump's tax cuts and therefore have plenty to loose should Biden win.
The shares have been carving out a series of lower swing highs since June and look vulnerable to further selling pressure should Biden win.
Key Support 24.76 / Key Resistance 28.48
Buy Occidental Petroleum (OXY)
Trump Win
A shock Trump victory would be seen as a real boon for the energy sector.
Trump has been supportive of energy tax subsidies, rolling back clean air emission standards and approving the use of federal lands and waters for drilling.
Biden on the other hand has stated his desire to "transition away from the oil industry".
Occidental are currently trading at long-term lows and should Trump win, we'd expect to see a sharp rally.
Key Support 8.93 / Key Resistance 11.32
Buy Discover Financial Services (DFS)
Trump Win
The stark difference in corporation tax proposals between the two candidates mean that stocks which have enjoyed Trumps tax cuts will likely bounce if he gets back in.
One suck stock is credit card provider Discover Financial Services, who, according to analysts at JP Morgan have been a key beneficiary of Trump's low tax environment.
The shares have started to form a solid uptrend in recent months and a win for Trump should see Discover break through resistance at 68.09.
Key Support 60.24 / Key Resistance 68.09
Disclaimer:
This research is prepared for general information only and should not be construed as any form of investment advice.